As we age, it's common for our social networks to shrink—whether it's caused by retirement, moving away from our family and friends, or experiencing mobility challenges. Helping seniors in your life engage in more social activities as they get older can also help them maintain a high quality of life.
You can help seniors avoid isolation by spending time with them, learning more about their interests, and encouraging your senior loved one to look for local groups, clubs, and events where they can meet like-minded people! Some older adults may even be interested in moving to a senior living community where they can meet more people with similar interests and experiences.
Why Is It Important for Seniors to Socialize?
Socializing may seem like it's a natural thing that everyone experiences, but that isn't necessarily true. Many seniors—an expected 40% or more of Americans over the age of 60—feel isolated from the people in their lives.
For seniors, socializing can actually be a lifeline. Being isolated can mean more than just loneliness—in fact, isolation has been linked to several health risks, including:
Depression
High blood pressure
Cognitive decline
Poorer physical health
A shortened lifespan
Socializing helps seniors stay active, engaged, and mentally stimulated—all of which can help maintain their mental and physical health. Connecting with others can also provide a sense of purpose and fulfillment, which can nurture personal growth and help seniors celebrate life.
How to Tell if a Senior in Your Life Is Isolated
It can be crucial to know the signs of loneliness and spot them when they affect seniors in your life—but that's not always easy to do. Your loved ones might not voice their feelings, or they might not recognize the problem themselves. However, there are some signs you can look for, including the following:
They spend most of their time alone, avoiding activities they used to enjoy.
They develop poor hygiene or show signs of self-neglect.
Their home is cluttered, dirty, or in need of repairs.
They're experiencing unexplained weight loss or gain
They're not responding to calls or emails.
They have a lack of interest in maintaining their physical health
They are missing medical appointments or neglecting prescribed medications.
All of these can be signs that your loved one is experiencing isolation. If you notice these signs, it might be time to offer support.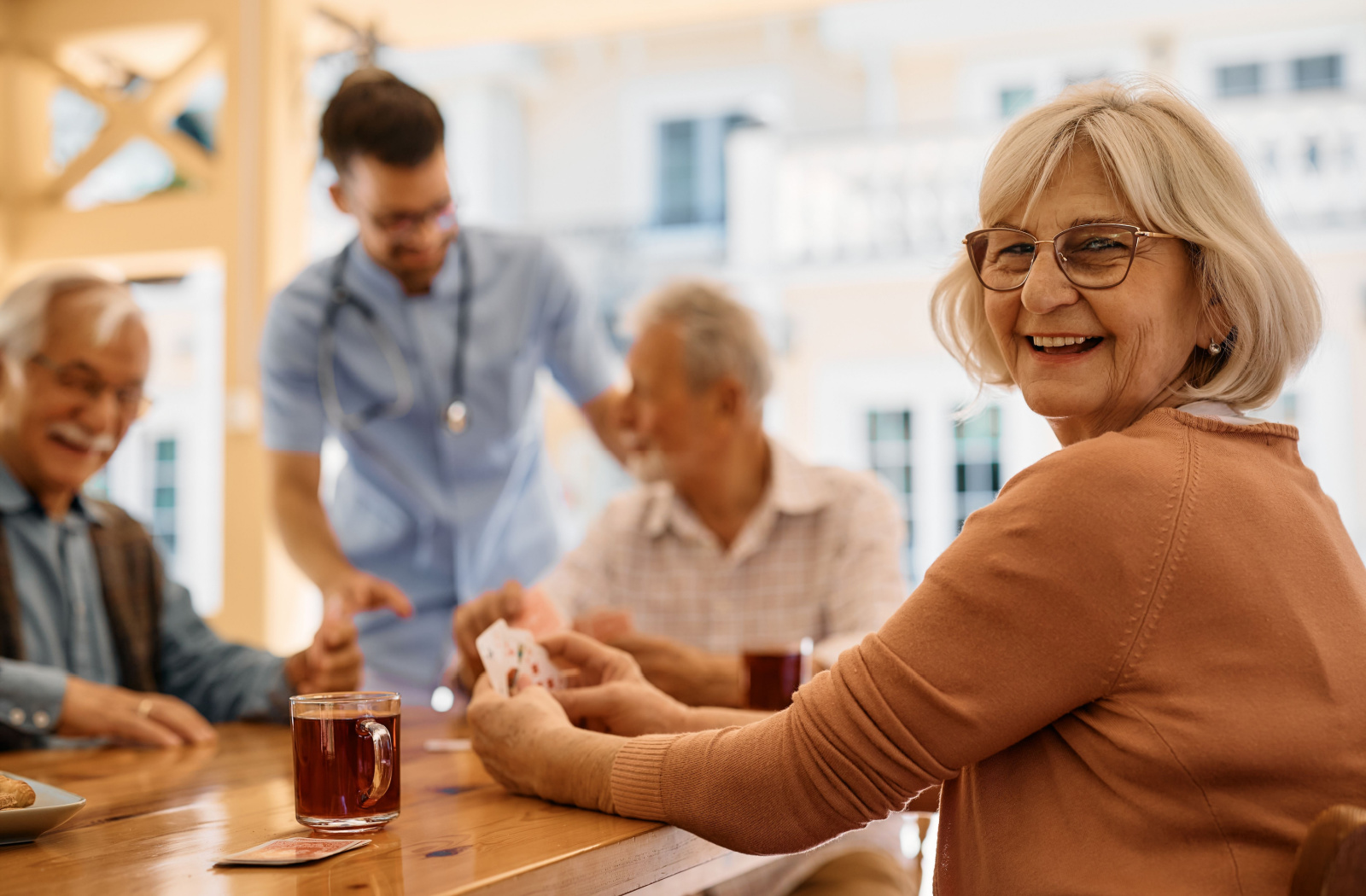 How to Help Seniors Socialize
When it comes to helping a senior in your life socialize more, start by considering their interests. After all, pushing them to do something they don't enjoy may not lead to any kind of meaningful engagement. Offer unconditional love, and try to find out what makes them truly happy.
Whether it's painting, gardening, playing cards, or simply chatting over a cup of coffee, everybody has their own interests. Help your loved one find ways to pursue their interests with others so they can begin socializing.
You could look for local clubs or groups that share their hobbies. And if mobility is a problem, consider online options—there are virtual clubs and communities that cater to a wide range of interests.
You could even arrange regular gatherings where they can connect with their family and friends—or set up a get-together with the people they care about.
Ways for Seniors to Socialize
If you're stuck thinking of ways to help your loved one socialize, don't worry! Here are just a few ideas to help. You can try recommending the following:
Joining a book club
Taking part in an exercise class
Joining a walking group in the neighborhood
Taking up a new hobby, like painting or gardening
Volunteering for a cause they care about
Taking a class to learn something new
Taking a tour of their local town or surrounding area
It can help to take a look at nearby community centers or bulletin boards. These often have advertisements for classes, events, and activities that can help seniors stay connected and engaged. If your loved one lives in a senior living community, take a look and see if there are any classes or events going on!
Helping Seniors in Your Life
Socializing is vital for seniors, but it's not always easy for them to reach out. By understanding the importance of social connections and knowing how to spot signs of isolation, you can provide essential support for the seniors in your life.
At Parsons House Austin, we know how important it is for seniors to feel connected to the people around them. We offer unconditional love to every person in our community—and a range of events, classes, and amenities for our residents to enjoy—so nobody has to feel alone. Book a tour with us today to learn more!