Medical professionals have known the link between diet and overall health for many years. Science recognizes the impact of the foods we eat on diseases such as diabetes, hypertension, cardiovascular disease, strokes, and obesity.
What you eat may impact the progression and management of Parkinson's. The right foods can make symptoms more manageable and determine what kind of care you'll need as the disease progresses.
What Are the Symptoms of Parkinson's Disease?
Parkinson's disease is a progressive condition that develops with mild symptoms that advance to more severe effects. The main symptoms of Parkinson's affect physical movement, such as:
Tremors that typically emerge in the hand or arm initially
Sluggish movement, or bradykinesia, that makes executive function and walking slower to accomplish
Muscle stiffness or rigidity that affects movement, facial expression, and can result in painful cramps
Other symptoms can include:
Balance issues
Nerve pain
Loss of sense of smell, or anosmia
Dizziness, fainting, or blurred vision
Insomnia or other sleeping problems
Medical professionals are beginning to turn to nutrition studies to discover whether diet can help delay and manage these symptoms, with positive results.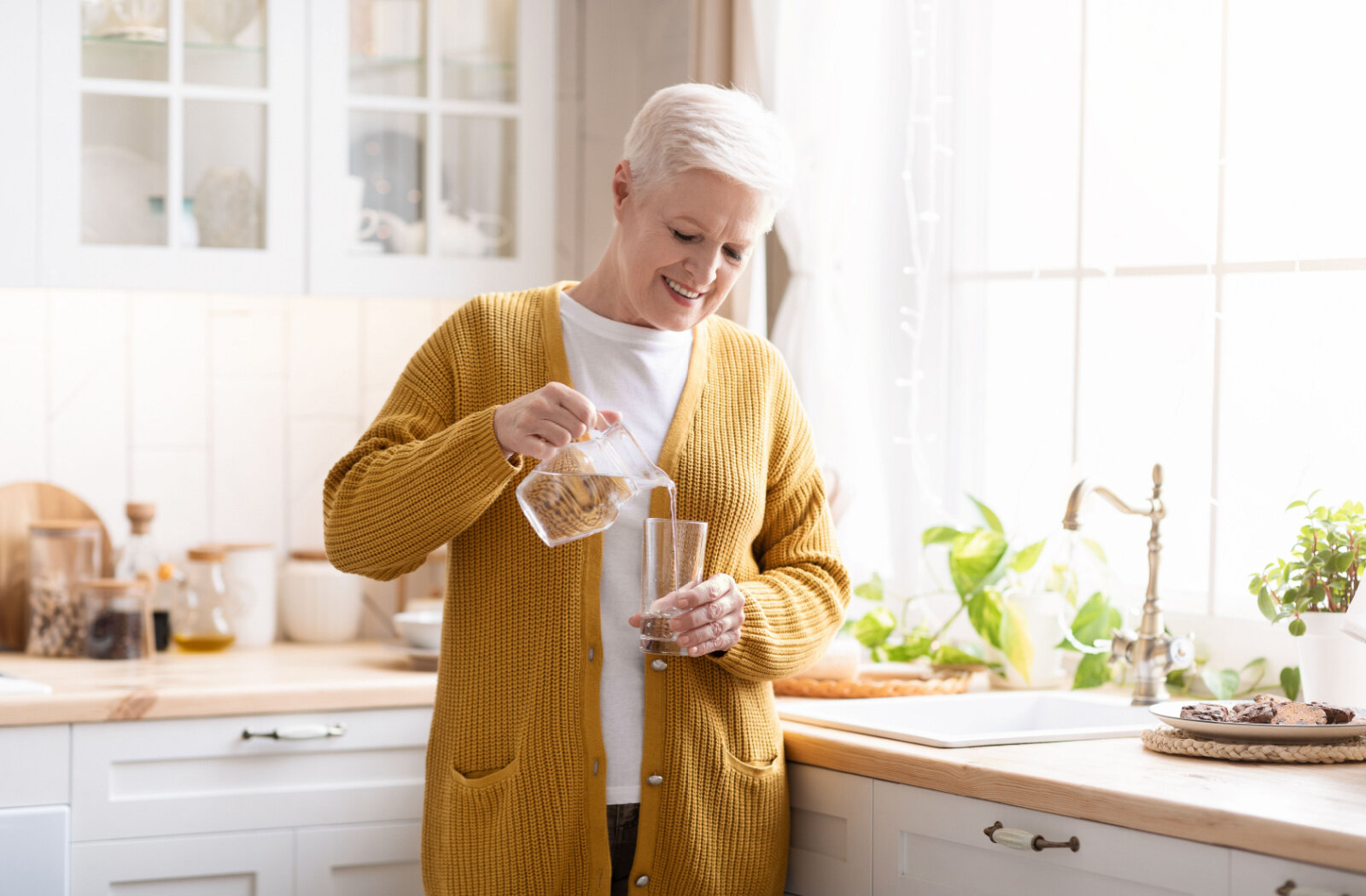 Managing Parkinson's Disease with Nutritio
Eating the right foods can optimize your medications, help you maintain weight, fight constipation, and keep your bones strong. Adjusting your diet can help ease some uncomfortable symptoms of Parkinson's by:
Drinking more fluids: water, herbal tea, and, surprisingly, coffee can help improve daytime sleepiness and help regulate sleep patterns
Eating more fiber from fruits, vegetables, whole grains, nuts, seeds, and beans to help with constipation
Avoiding large meals and instead eat smaller meals throughout the day to avoid low blood pressure and dizziness
Researchers are finding that cutting out alcohol, sugars, and meat can help reduce inflammation in the gut and the severity of existing symptoms.
The Link Between Gut Health and Brain Health
Your gut microbiome is the bacteria and microorganisms in your digestive system. A healthy diet without meat and inflammatory foods can help nurture good gut bacteria, reducing inflammation and lowering the risk of Parkinson's disease.
Inflammation in the gut can lead to inflammation in the brain and contribute to brain cell loss that exacerbates disease progression. Researchers hypothesize that what you eat can influence which types of bacteria will thrive in your gut: the healthy bacteria, like Prevotella, or bacteria that cause flare-ups.
Vegan Diet for Parkinson's Disease
Eating plant-based foods can complement medications prescribed for Parkinson's disease. Most patients with Parkinson's take levodopa (Sinemet), a protein building block. Introducing meat into your diet acts as a competing protein, reducing the absorption of the medication and affecting the effectiveness of the dosage.
Mediterranean Diet
The Mediterranean diet is a popular plant-based eating plan that helps support a variety of health conditions, including heart health and blood sugar levels. People also embrace this diet to reduce the chance of obesity.
Eating a Mediterranean diet is affordable and versatile. Recommended foods based on this diet include:
Plant proteins, including nuts, beans, lentils, and seeds
Olive oil, as the primary fat
Whole grains
8 to 10 daily servings of fruits and vegetables
Foods low in processed sugar
Low-processed food, including trans-fats, drinks with added sugar, and refined grains
A Mediterranean diet can include a small amount of fish or poultry if you want meat occasionally, but plant-based foods can help reduce several Parkinson's symptoms more effectively.
Manage Constipation
Constipation is common among patients with Parkinson's, and high-fiber foods can help prevent it. You can get dietary fiber from all plant foods, including fruits, vegetables, grains, seeds, and nuts, which are essential for gut health.
Overcome Fatigue
A non-motor symptom of Parkinson's disease is sleep problems. What you eat can help regulate your sleep and restore energy. Almonds, walnuts, oats, and lentils will reenergize you more than sugar ever could.
Boost Mental Health
Progressive neurological disease diagnoses are life-changing and subsequently alter your mood. Foods in the Mediterranean diet, including dark chocolate, oats, berries, bananas, coffee, and avocados, can benefit brain health and be a way to help support your mental health.
Get Support for Parkinson's Disease
When the progression of your or your loved one's Parkinson's symptoms requires more care, assisted living can help. Our staff can accommodate dietary requirements to help minimize symptoms of Parkinson's disease.
Schedule a visit to our community to experience all the amenities of your new home.